Choosing A Connecticut Wedding Band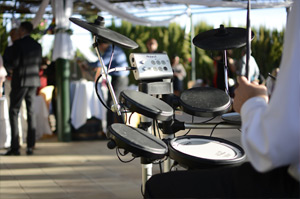 For many years wedding rituals have stayed the same, but the key steps to finding the band for your wedding reception have changed dramatically. Today, most brides are finding the music for their wedding on the Internet.

You can now see and hear bands from all over Connecticut play right in the privacy of your own home. Starting with their web site, there are 5 key steps to booking the right band for your special day.

Click Here For CT Wedding Bands

Step 1: Evaluating Bands on the Internet
A good web site can give you a lot of information right away. If you are planning a "country wedding", and the band photo shows the group dressed in cowboy hats, you may have found the perfect band. However, most brides and grooms are looking for a group that can play a variety of music.

Your guests may range in age from 8 to 80, and a band that can play Big Band Swing, Motown, Rock and Top 40 is sure to keep the dance floor full. Read through the band's on line song list. Does it include songs from various genres? Do you see the music that you like to hear?
Next, see if there are audio samples listed. Take a moment and listen to them carefully. Go with your gut feeling. Do you enjoy what you hear? Do you like the lead singer's voice? Do you enjoy the piano or saxophone parts? Some bands have video samples listed, so go through them as well. You will probably be able to narrow down your band search dramatically after evaluating on line demos.
Once you have narrowed your search to a few possibilities, contact the bands via phone or email. Most bands book 6-18 months in advance, so if you think you have found the band of your dreams, don't hesitate to find out more information.
Step 2: What to Ask via Email or Telephone
The first question to ask is if the band is available on your date. If they are, now is a good time to get an idea of the band's pricing. Bands vary in size and price, so find out all the information.

For smaller, more intimate weddings (60-150 guests) a smaller group is often appropriate. If you are planning a larger wedding, (200 guests or more) you may be interested in hiring a larger band. You want to make sure that you can both love and afford the right band.
Ask the bandleader how long the group has been playing together and if there are any references from brides or other wedding professionals available. Feel free to request a full length CD Demo and any other information that the band can mail to you. You can then play the CD at home, for friends or in your car and peruse the band's literature at your leisure.
You should expect a reputable band to return your emails and telephone calls within 24 hours. The bandleader should respond to any of your concerns, and your business should be handled in a professional and courteous manner.
Next, find out when the band will be playing in your area so that you can see them perform live.

Click Here To Find a Connecticut Wedding Band


Step 3: See and Hear the Band Perform Live
Most bands have a calendar that includes public appearances (i.e. clubs and restaurants). If not, you may be able to peek into another wedding. Of course, make arrangements with the bandleader first and make sure that this is okay before showing up at a wedding.
While observing the band, you should like what you hear and what you see. Is the band playing at a comfortable volume so that the guests can converse comfortably? Is the dance floor full? Can you imagine the band performing at your wedding?
When the band is on a break, be sure to introduce yourself to the bandleader. Ask him or her any questions that you may have, and then ask yourself if this is someone that you can communicate with comfortably and have a good relationship with during your wedding.
Step 4: Book the Band
Once you have decided on a band, hire them. Nothing is worse than having your heart set on a band and finding out that they are suddenly unavailable. The contract should include the date, time, place of your reception, number of musicians in the band as well as your name, address, telephone number and any other contact information important to the event. The total price for the band, the amount of your deposit and the balance due should all be clearly stated. If you have any questions, do not hesitate to ask.
Step 5: Plan in Advance
There is nothing more helpful than good planning. The more details you can take care of in advance, the easier it will be the day of your wedding. If you are undecided about your first dance, ask the bandleader for suggestions. He or she should have plenty of helpful ideas. If you have made arrangements for the band to learn a special song, make sure to provide them with a CD copy of the music and at least 6-8 weeks notice so that they have plenty of time to learn your special song. If there are certain preferences that you have, (i.e. you do or don't want the band to play line dances, etc.) take the time to write a note at the bottom of the band's song list so that the leader can be aware of your choice. At the same time, put a star next to songs that you particularly enjoy so that you can be sure to hear your favorites.
Finally, feel confident knowing that you have hired a professional and experienced wedding band to perform at your wedding. Enjoy the music and have fun on your special day.